Outline Tracker™ for HP webOS helps you organize all of your tasks and associated notes. Organize projects at work, plan a move, a wedding, or a grocery list.
Organize tasks and sub-tasks as many layers deep as you need
Outline Tracker's dynamic to-do list shows only the tasks you can work on here and now.
View upcoming tasks in the "By Due Date" scene.
The dynamic waiting list shows tasks that are waiting for action by someone else - tap to contact him or her
Tasks and sub-projects can repeat on an exact schedule (such as the second-last day of every month) or a lax schedule (such as "a week after I last did it").
Color-coding shows at a glance who's responsible for a task -- you, your organization, or no one (better get someone on that!)
Items with a due date appear in the webOS Calendar
Global search makes it easy to find items
Nightly backups keep your data safe.
Coordinate with others using Basecamp Classic from 37signals. Others can connect using any web browser, or custom apps available for many kinds of smartphone. (Outline Tracker does not support "new" Basecamp.)
Edit Basecamp Classic items without a network connection. Changes will be uploaded when you're next on-line.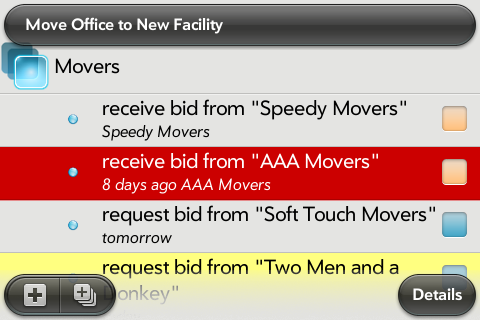 The many details so often forgotten can all be at your fingertips!
Outline Tracker runs on every webOS device, from the original Pre to the TouchPad and Pre3.